Thirtyfive years ago Enzo Ferrari decided to replace his World Champion driver, Jody Scheckter with Frenchman Didier Pironi. He was paired with the team's established darling, Gilles Villeneuve.
After the announcement which came in Imola before the 1980 Italian Grand Prix, on Ferrari's home territory, the Commendatore gave an insight to his decision.
– When I chose Pironi, it was after watching him during the Brazilian Grand Prix this year. He finished fourth after a superb drive through the field following a pit stop on the second lap. Furthermore his Italian origin has something to do with it. He comes from the Friuli region in North-East Italy and I have a moral debt to the people there who were kind enough to restore my son, Dino's tomb free of charge when it was damaged by vandals. Ferrari are going through a bad time at the moment, but the fact Didier has accepted our offer even now convinced me my choice was right.
Enzo never hesitated to approach those youngsters he thought to become a future champion like in the case of Niki Lauda in 1973. Pironi had only his second race with his team, Ligier at the before mentioned Brazilian Grand and after his first win in Zolder at the Belgian Grand Prix (in May!) he got the formal invitation from Maranello.
The international press almost immediately sensed a possible rivalry between the two would-be Ferrari teammates. Ferrari did not agree with them.
– Villeneve and Pironi will establish the same respect for one another as that between Scheckter and Villeneuve. The competition isn't between the drivers in our team but with the drivers of all other teams. I chose Scheckter because he was a fighter and he showed indeed ha was a fighter. When Villeneuve was quicker ha was sensible about it. He realised that the Canadian was faster than he was on certain occasions. But didn't take umbrage, on the contrary.
So far the Old Man at the age of 82 for whom, even after half a century, Tazio Nuvolari remained the prototype of a racing driver:
– He was the man whose courage surpasses everything else. Villeneuve has the same characteristic. And I think Didier Pironi is very similar.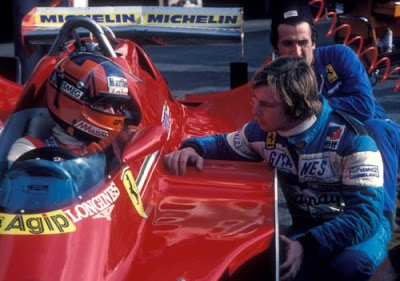 The Italian motor press was not totally happy with the arrival of the French boy with an Italian family name. One said, the Italian are already enjoy hearing his name it brings joy to their hearts. And Pironi, of course, will chat with them in their native language when he has a mind to do so.
On the other hand, some F1 experts wouldn't hide different opinion. Like, Didier's personality is complex and hard to understand. He doesn't open up and allow people to see his variously different sides of his character. His racing style, technique and results may inflame the passion of his Italian fans but his performance on the track has to be matched by his personality.
The big question was as early as autumn 1980 how he could win the sympathy of the crowd. The result would in first line but also his attitude towards the public.
In others view Pironi was the man of contradictions. He was determined and intelligent but shy. He appeared as distant but also a thinker. Or, despite of all, his shyness mean lack of confidence?  Or simply he wanted to keep himself out of confrontation because for him the only confrontation should have been the racing?
As Christiano Chiavegato put it:
– Pironi was from one side intelligent and also very cunny. In the region of Friuli where his family comes from people has the fame to be able negotiate and dealing with things for their advantage if you capture what I am trying to say…
When Pironi said yes to Marco Piccinini and Enzo Ferrari he also gave his personal feelings about it:
– Ferrari has tremendous technical and financial potential, unrivalled. There are fabulous plans for the cars and engines and that had a lot to do with my decision. I met Scheckter and Jacky Ickx at Monaco and asked them about Ferrari. They were both quite categorical, "You have to join".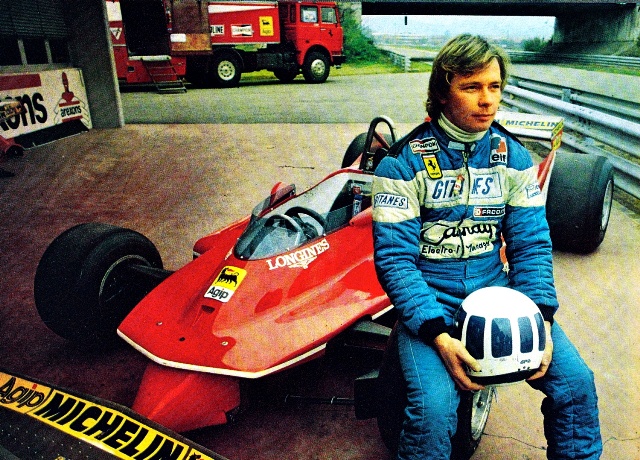 No chat with Villeneuve, just to remind.
Enzo Ferrari was naturally happy with his new driver. He told Pironi on phone:
– We need young fellows like you.  
At the presentation the 'cunny' Pironi tore two letters from his name Didier to make it Didi – since he knew it was the nickname of Enzo Ferrari's supporter and the first president of the Scuderia, Count Carlo Felice Trossi. When the Commendatore saw the Didi on the side of the 126 CK said only one word, Bravo.
And what said Didier Pironi after his first race in Long Beach in March?
– In three month time we shall be in a position to win races.
He was right. Gilles Villeneuve came home victoriously on 31st May in Monaco and three weeks later in Jarama.