A chat with Pino Allievi who knew Enzo Ferrari from the end of 1960s.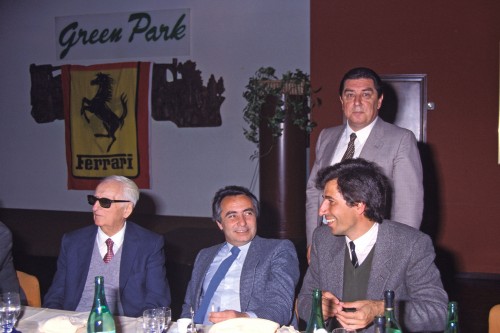 Enzo Ferrari and Pino Allievi (right) at a press meeting © La Gazzetta dello Sport
When did you first meet Enzo Ferrari?
It was the end of the 1960s in Monza. I was not a journalist yet, I studied. He came for some testing and it was very easy to talk to him. But later, as I became a journalist, he said, 'Oh, you are a journalist…, well…' It was something different. But we continued talking. Then he discovered that my father worked for him from 1938-1940, because my father worked at Alfa Romeo, I mean, inside the Scuderia in Modena but for Alfa Romeo. And their relationship was very friendly.
Did you get the chance any time you asked Mr. Ferrari?
He never refused me. When he did not want to give an official interview, he said we could talk off records. But he always shared his opinion with me. And I knew what to write and what not to write.
Any scandals?
No scandals. But if anything happened at Scuderia Ferrari, I phoned or visited him. We might have talked three  or four times a week. Sometimes even every day.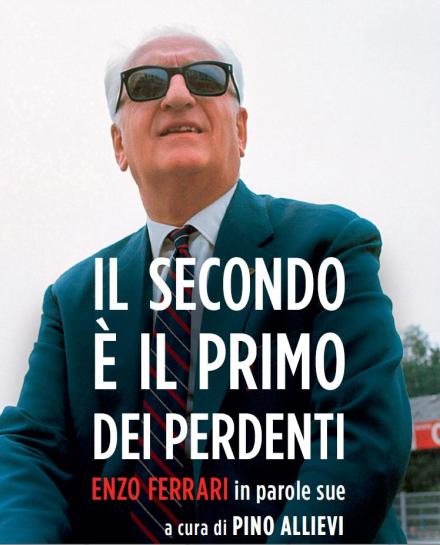 Are you a Ferrari fan?
Well… You know I was an Alfa Romeo fan. And Ferrari was the descendant of Alfa Romeo because Ferrari was born from the rib of Alfa Romeo.
Many say Enzo Ferrari was full of temper and not an easy character to deal with. Can you confirm?
I can confirm he was a very, very difficult character. Most of the time we disagreed – but in a loyal way. He was shouting a lot even  at the drivers. He was a though man with a clear opinion of everything. It was difficult to make him change his mind. But at the end of the day he was mostly right. For example when he put himself against the FOCA teams. As a result of all the fights everybody was obliged to sign the Concorde Agreement. And  where was it signed? In Maranello. Balestre and Bernie had to go there. Till today all the important chapters of the Concorde Agreement are made by Ferrari and they are still valid.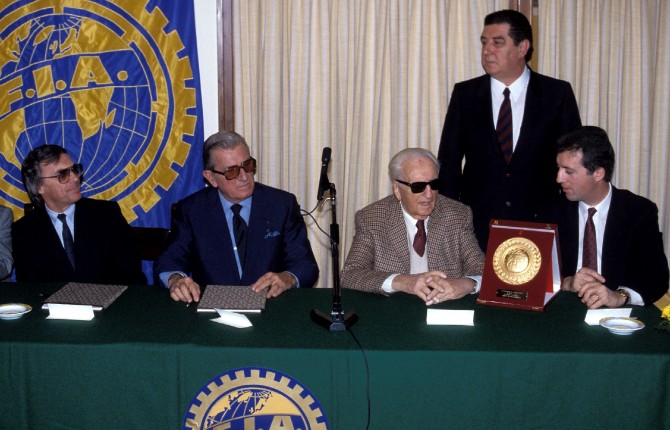 Signing the Concorde Agreement in 1981 in Maranello. Ecclestone, Balestre, Enzo Ferrari and his son Piero. Behind Franco Gozzi, Ferrari's communication chief. © Reppublica
Who were the drivers he admired most?
I think Nuvolari and Villeneuve. They were very similar. Both were very risk-taking drivers, and Ferrari liked drivers who were really  ready to give their lives  to the team. I mean, 100 percent, not 99 percent. And Nuvolari and Villeneuve were ready for that.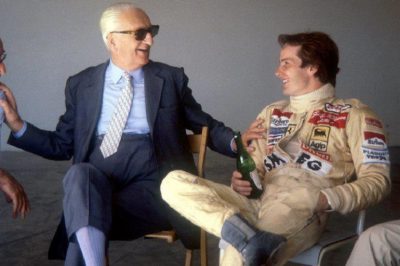 Enzo Ferrari with Gilles Villeneuve at the Italian Grand Prix in Imola in 1980  © Formulapassion
What about his World Champion drivers?
It is another story. He loved John Surtees a lot – and then fired him. He loved Lauda a lot – and then the two went on their own separate ways with anger. He did not love Fangio so much. But he loved Ascari of course, who was the son of Enzo's great friend, Antonio, but we cannot say the same about Hawthorn or Phil Hill. With Scheckter he had a very professional relationship. He took Scheckter because when he was watching him on TV, he saw in him the fire – and indeed, Scheckter took the Championship  in his first year at Ferrari.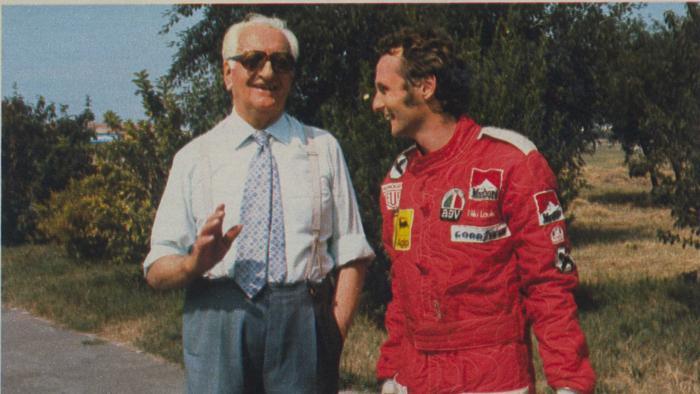 Enzo Ferrari with Niki Lauda - the Austrian won two World Championships for Maranello in 1975 and 1977 but left with anger © Turnology
Were there any drivers, to your knowledge, who were invited to drive for Maranello but refused to come?

I think Ferrari would have liked a lot of drivers to drive for him. For example, I am sure he would have liked Jackie Stewart. He had a prototype contract but nor for the Formula One, I think there was an issue of money. And Stirling Moss had a valid contract with Ferrari but then came the crash that ended his career.
How much would he like today's drivers?
That is easy. I think he would like Alonso, but only the driver Alonso and not the political side of Alonso; political drivers were not to his taste. He would like Hamilton, definitely. Hamilton would be the ideal driver for Enzo Ferrari. Or Ricciardo… About the current Ferrari drivers, well… I think he would have a normal relationship with Seb and Kimi, but not more.