Most, hogy 11 év után ismét lesz Osztrák Nagydíj, elővettem azt a novellámat, ami 1985-ös, első zeltwegi látogatásom emlékeiből íródott. Egy majdnem 30 éves történet, amit 2008-ban szerzettem.
* * *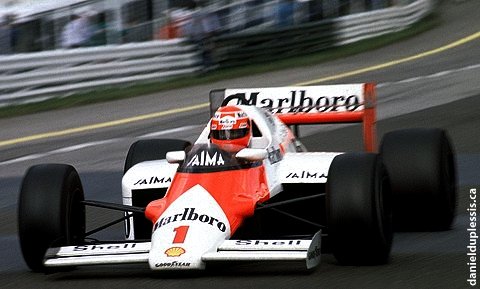 Dolgoztam a Városi Könyvtár Feldolgozó Osztályán, könyveket dolgoztam fel. Érettségim volt könyvtárkezelői ismeretekből, kétszáz forinttal több fizetést adtak, mint annak, aki csak úgy, az utcáról esett be. Mivel a fiókkönyvtárakat innen látta el a rendszer, itt dolgoztuk fel az összes szétosztandó könyvet is. Hatvan Beszterce ostroma tornyosult az asztalomon, ezeket kellett végigpecsételni, a rendes könyvtári pecséttel, és természetesen a 17. oldalon a pici körpecséttel. Mert ha ellopnák a Beszterce ostromát a révfalusi fiókkönyvtárból, és megtalálnák a gyanúsítottnál, és kiderülne, pont a 17. oldal hiányzik belőle, mert a pecsét miatt a nyavalyás kitépte, akkor az perdöntő bizonyíték lenne.
A tél végén határoztam el, hogy két évi gyötrelmes munkálkodás után megérdemlem, hogy IBUSZ-út keretében elmenjek az Osztrák Nagydíjra, a Graz melletti Forma-1-es futamra. 2500 forintért hirdették az utat, szállással, félpanzióval, belépővel. Apámmal megtárgyaltam: én spórolt pénzemből 1500 forintot tudtam rá szánni, ő 1000-rel beszállt, és megígérte, hogy még némi schillinget is ad majd annak idején.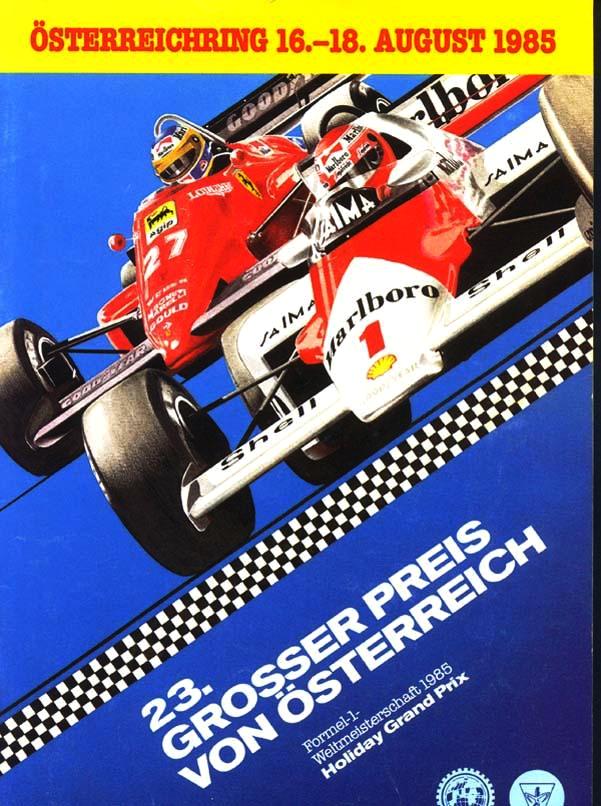 Egyetlen apróság kerülte el a figyelmemet, amire akkor derült fény, amikor elvonultam az irodába lefoglalni a helyet. Nevezetesen, hogy az utazás egyénileg történik. Autóm nem volt, vezetni nem tudtam. Hogyan jutok oda, Grazig, és utána ki, a pályára, ami onnan még mintegy 50 kilométerre feküdt, a hegyek között. Az ügyintéző javasolta, hogy hagyjam meg a címemet, és ha lesz olyan utas, aki esetleg magával vinne némi benzinpénz fejében, akkor annak megadja az elérhetőségemet. Ebben maradtunk.
Eltelt legalább két hónap, tavasz volt már. A könyvtár ruhatárosa, Szidi néni ekkor szólt, hogy autóverseny ügyben keresnek! Azonnal bevillant, remek, itt a fuvar, megyünk, éljen Lauda!
A könyvtár előterében magas, szikár, ötven körüli úr ácsorgott, akit sietve üdvözöltem, mondtam, hát én lennék a leendő útitárs. A férfi csodálkozva meredt rám, és ekkor, a háttérből, a virágok takarásából egy apró, köpcös ember emelkedett fel, botra támaszkodva, és felém kiáltott, hogy Én megyek Zeltwegbe, fiatalember! Megindult felém, és ahogy lépett, furcsa, sziszegő hang érkezett felőle, mint amikor ereszt a gumimatrac. A bal az műláb, csapott rá a kezével a combjára, az csinálja.
Mindez egy csöppet sem érdekelt. A megmentőmet láttam benne, aki álmaim színterére fog elröpíteni. Hamar megegyeztünk. Jóskának hívták, kérte, én is csak nevezzem így. Trabant Hycomatja van, de ne izguljak, mondta, a TEFU-nál portás, a fiúk az út előtt olyan alaposan átnézik a szerkezetet, hogy csak úgy hasítjuk majd az utat a kies stájer Alpokig. A fizetséggel sem vacakoltunk sokat, egy tankolást én állok, közölte Jóska, rögvest hozzátette, nem lehet több 200 schillingnél, a keverék baromi olcsó. Kezet fogtunk, és ő sziszegő bal lábával távozott.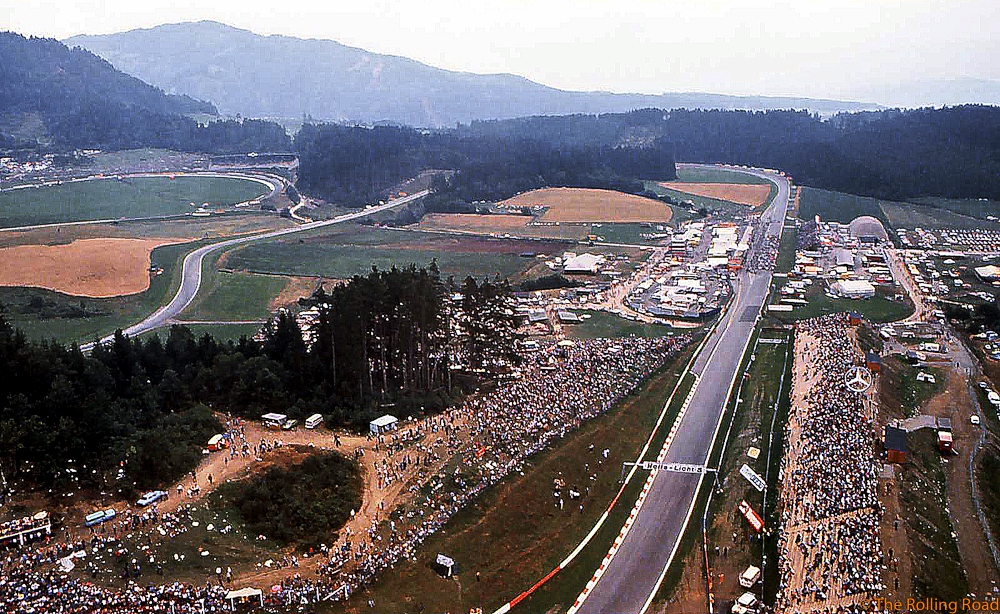 Úgy beszéltük meg, hogy jó időben indulunk, bár az első nap vacsorára kellett odaérni Grazba, ám ha utazás, akkor ne vesztegessünk egy perc időt sem. Hajnali 5-re értem jön, beszéltük meg augusztus elején, telefonon.
Aznap éjjel arra ébredtem, hogy mozog alattam az ágy. Hülye vagyok, gondoltam, ennyire elvette az eszemet az utazás, a Forma-1, a Lauda-őrület. Nem a föld reng, hanem a szívem. Visszaszenderedtem, csak azért, hogy aztán tíz percenként nézzem az órát, nem kell-e már kelni, jön Jóska, aztán indulás. Lent álltam a teljesen néptelen, épp hogy derengő után, kis motyómmal: az egész útra étekként egy Parenyica-sajtot és egy üveg kólát csomagoltam.
Néhány perc késéssel befutott a Trabant. Az rögvest kiderült, hogy Jóska nem egyedül ül benne, a fia is vele jött. Miki, mutatta be Jóska, és biztosított róla, nincs miért izguljak, én ülhetek elül, Miki ellesz hátul. De hát bolond lett volna kihagyni a lehetőséget, ha már mennek ki, és van hely a kocsiban. Meg aztán akar venni egy rendes fényképezőgépet, voltaképp ezért van egész.
Elrendezkedtünk, Miki tényleg bekvártélyozta magát hátulra, a feje alá gyűrte a cuccát, bejelentette, hogy aludni akar.
Jóska elrendezte a műlábát, egészen fura szögben, szinte kitámasztotta oldalra, aztán gázt adott, felköhögött a motor, ő rántott egyet a kéziváltón, és nekivágtunk a nagy kalandnak. Megy, mint a parancsolat!, csapott egyet a kormányra, a fiúk bent tegnap egész nap bütykölték. Gyertyacsere is volt.
Megnyugodhattam. Minden tökéletesen sikerült, és minden méterrel, amit ezután megteszünk, Laudához leszek közelebb.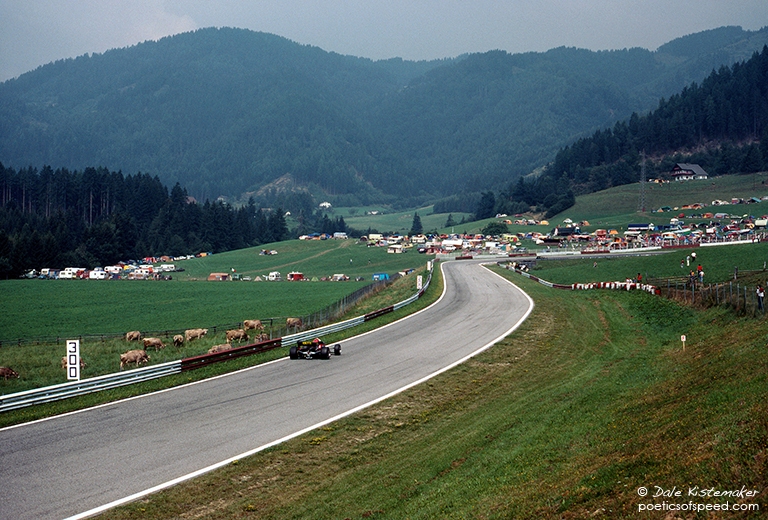 Aztán a földrengést észlelted-e az éjjel?, kérdezte még Jóska, amikor már kijutottunk a városból.
Az volt tényleg?, képedtem el. Azt hittem álmodtam az egészet.
Bizony, bólogatott Jóska a mindent tudó emberek ábrázatát öltve fel. Bemondta a Kossuth is. A Richter-skála szerinti 5,2 erősségű földmozgást észleltek, adta vissza, amit a hírekben hallott.
Nos igen, szomorú, kicsit még lamentáltunk mindezen, de hát mi volt ez azokhoz a mozgásokhoz képest, amik bennem dúltak. Alig hagytuk el Abdát, a derengő fényben egy pillanatra láttam a Radnóti-szobrot, ott voltunk az avatásán.
A határ előtt Jóska ideges lett. Felkeltette a fiát, rendelkezni kezdett. Ahogy oldalról néztem rá, arca már-már ijesztőnek tetszett. Dülledt szeme volt, szemhéján is apró bőrfüggelékek éktelenkedtek, mint ahogy az arcán sok helyütt máshol is. Orra nagy volt, szivacsos, a szája is húsos. Sárga, ritkás fogai szinte minden egyes kimondott szónál elővillantak, az egyik alsó szemfoga mintha egyenesen felém bökött volna. Útleveleket, kiviteli engedélyeket előkészíteni. És nem kell feleslegesen beszélni. Majd ő tárgyal a határőrökkel, ebben van gyakorlata. Egy portás mindenkivel szót ért.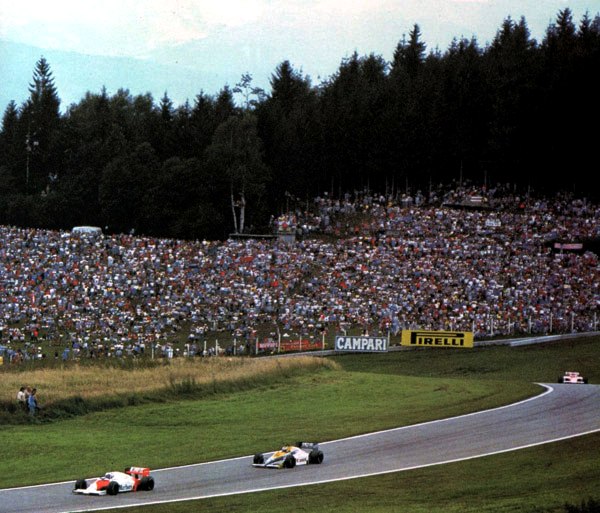 Aztán már szabad földön jártunk, a szürke Trabant fürgén pöfögött.
De nem sokáig. Amint jöttek az első kaptatók a soproni hegyek túloldalán, különös módon lelassult. Nem hogy kettesbe, de egyesbe rakva volt csak hajlandó felkapaszkodni egy-egy dombon, és közben a motor olyan hangokat hallatott, mintha a következő pillanatban akarna szét esni egy fülsiketítő csattanással. Jóska rángatta a váltót, káromkodott, és újból elmagyarázta, hogy a fiúk, bent, a TEFU-nál ától cettig átnézték a járgányt az előző nap, nem létezik, hogy bármi baja legyen. Ám ettől a megfellebbezhetetlen bizonyságtól a Trabant még nem ment gyorsabban. Miki is feltámadt a hátsó ülésen, próbált egy-két jó tanáccsal szolgálni az apjának, de Jóska nem tűrte, hogy bárki is belebeszéljen az ő tudományába. De végül nem volt más választás, a következő falucskában, amikor szerelőműhelyt vettünk észre, beálltunk az udvarra. Az aknából, egy Audi alól bajszos, szigorú képű mester mászott elő, és összevont szemöldökkel hallgatta, hogy Jóska miként próbálja előadni neki a Trabanttal támadt probléma lényegét. Jóska állította, hogy perfekt német, ám a szerelővel leginkább kézzel-lábbal beszélt, illetve a botjával hadonászott, és azzal mutatott a kinyitott motorház felé, hogy ott állesz szuper. A főnök behajolt a motor fölé, szemlélődött, aztán kicsit megpiszkálta. Közölte, hogy befejezi az Audit, aztán majd meglátja, mit tehet. Nyár van, egyedül dolgozik a műhelyben, ezt meg kell értsük. Jóska káromkodott, a homlokáról óriási, kockás ruhazsebkendővel törölte az izzadságot. Én pedig hol az órámra néztem, hol pedig az előttem alig pár kilométerre lévő csúcson meredő adótoronyra: ugyanezt láttuk még magyar földön, Sopron előtt járva.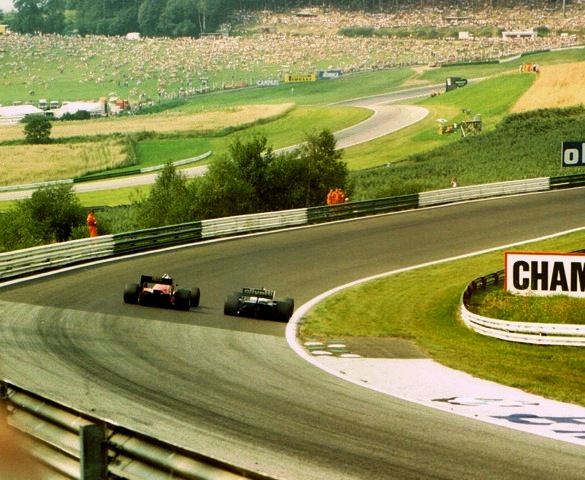 Egy órás várakozás és egy gyertyacsere után, a Trabant újból nekirugaszkodott az emelkedőnek, és szép lassan fel is kapaszkodott rá. Jóska szidta a mocskos kapitalista szerelőt, aki százötven schillinget is legombolt róla. Aztán elcsöndesedett, én pedig előszedtem a Parenyica sajtot, arról tekergettem le egy-egy darabot, és kaptam be, lassacskán ebéd gyanánt. Burgenladi falvakon haladtunk át, amik még majdnem olyanok voltak, mint az otthoniak, csak a házak tűntek rendezettebbnek, és az osztrák tévé reklámjaiból ismert Spar és Billa feliratok vonzották a szemet; apámtól kapott pénzemet jó helyen őriztem, a kétszázötven schillinget, amit a tankolásra szántam, a tárca egy külön rekeszébe dugtam.
Amikor az egyik eligazító táblán megjelent az Oberwart felirat, Jóska felrikoltott, Te Miki, nem itt lakik a Guszti? A hátsó ülésről Miki szokatlanul élénk hangon válaszolt, A Guszti bá?, De, de, asszem, itt, persze. Nincs meg a címe neked valahol? Igazán beugorhatnánk hozzá, biztos örülne…, folytatta Jóska, majd nekem foghegyről odavetette, Unokabratyóm, kijött hetvenkettőben, ritkán látjuk egymást. Miki rövid motozás után fennhangon újságolta, De jó, beírtam a kis noteszomba, itt van, ni. Oberwart… Mondom én!, rikoltott megint Jóska. Címe? Lilienbrunnstrasse 8., olvasta Miki hátul. Megtaláljuk, nyugtázta Jóska, majd rám nézett. Nem rohanunk sehova, vagy? Az a verseny csak holnap lesz úgyis, odaérünk. Egy órácska az egész, iszunk egy jó kis osztrák kávét.
Néztem ki az ablakon, Oberwart nyolc kilométerre volt még.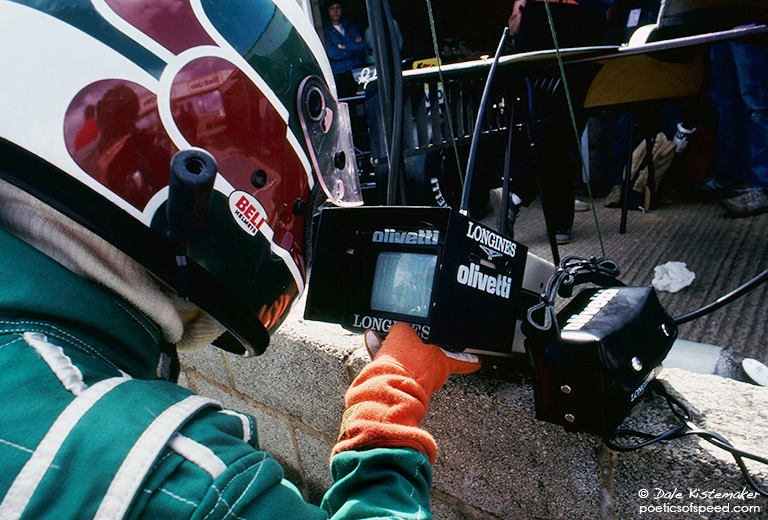 A Lilienbrunnstrasse 8.-at háromszori kérdezés után leltük meg: kertvárosi, tühtig osztrák házikó volt, előkerttel, terasszal, a dupla garázs előtt BMW állt.
Itthon van a Guszti!, örvendezett Jóska, bár addigra már biztos voltam benne: előre megbeszélték, hogy jövünk, csak épp nekem felejtettek el szólni a közbeiktatott programról. Guszti valóban otthon tartózkodott, és egy csöppet sem volt meglepve a "váratlan" vendégek betoppanásán. A tágas konyhában ültünk le, a kávé, ahogy Jóska ígérte, már készen volt.
Guszti, Jóska és Miki beszélgetni kezdtek a rokonokról és ismerősökről. A Feri, a Petya, a Gizi néni, a Tóni, a papa, a Karolina néni, a vén hülye, az Ágika, az Éva, a Bandi bácsi. Minddel történt valami, vagy meghaltak, vagy szültek, vagy összeházasodtak, vagy elváltak, vagy az történt velük, hogy megvannak.
Felálltam, megkérdeztem, merre van a vécé. Átmentem egy nagy, terrakotta lappal burkolt előszobán, ahonnan több ajtó nyílt. Guszti utasítása szerint a szemközti másodikba mentem, és itt, a vécében is rögvest meggyőződhettem róla, hogy ez valóban más világ. Minden ragyogott és illatozott, a vécécsésze mellett ott sorakoztak azok a toalettápolási termékek, amiket szintén unalomig ismertem az osztrák reklámokból, a falra erősítve két kis lyukacsos tégely ontotta magából a rafinált illatokat. A vécépapír vastag és puha volt. Sokáig tartózkodtam a vécén, ha már itt kell töltenem az időt Oberwartban, akkor legyen valami értelme. Az aprócska mosdónál folyékony szappant nyomtam a kezemre, és a langyos vízben oly sokáig mostam a kezemet, mint egy sebészprofesszor operáció előtt.
Az előszobaszekrény tetején észrevettem az aznapi Kronen Zeitungot. Mohón kaptam utána, és a sportrovatban meg is leltem, amire áhítoztam. Ha még mindig több száz kilométerre vagyok a zeltwegi versenypályától, legalább hadd olvassak róla, mi történik ott. Fellapoztam és elállt a szívverésem is: öles betűkkel az állt ott, hogy Niki Lauda visszavonul. A háromszoros világbajnok egy előző napi sajtótájékoztatón jelentette be, hogy az év végén végleg felhagy a versenyzéssel, ám most, utolsó hazai versenyén még meg akarja örvendeztetni a közönséget. Csak álltam, bámultam a betűket, a fotót, amin Lauda, mikrofonnal a kezében épp közli az elhatározását.
Sziszegést hallottam ebben a pillanatban, és arra rebbentem, hogy Jóska áll mellettem, a botjára támaszkodva.
Hol kujtorogsz már?, modult rám, gyere csak vissza hozzánk.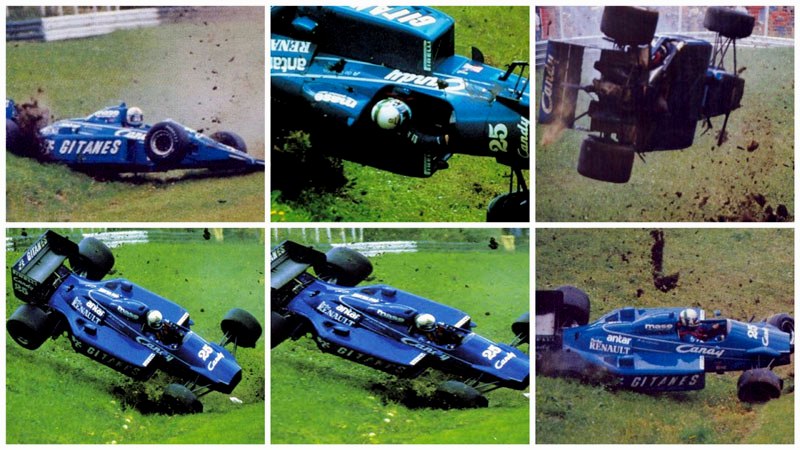 Újból ott ültem az asztalnál, amikor Guszti felállt. Nem rohantok, remélem, mondta. Dehogy is!, rikkantott rögvest Jóska, majd felém nézve csak rántott egyet az állán. Gondoltam, elmehetnénk kicsit vásárolgatni, folytatta Guszti, aki már Mikit is felvillanyozta, szöcskeként ugrott fel a székéről. Még biztatóbb lehetett a számukra, hogy Guszti a farzsebéből elhorgászta vaskos, fekete tárcáját, és gyors pillantással ellenőrizte, hogy van-e nála elegendő pénz.
Kifelé menet Jóska odasúgta, Fél óra az egész, meglátod. Hosszú még a nap!
Két autóval mentünk a városka határában álló Löwa áruházhoz, Miki ezúttal Guszti BMW-jével.
Itt találkozunk, a kocsinál, adta ki a parancsot Jóska. Amikor megkérdeztem, mégis mikor, szinte felfortyant, Mikor, mikor! Amikor majd végzünk.
Másfél órával később három nagy bevásárlókocsit tolva jelentek meg a kijáratban. Guszti igazán bőkezű volt, ismerte el felváltva Jóska és Miki, amikor a csurig rámolt Trabanttal délután négy óra tájban elhagytuk a pirossal áthúzott Oberwart táblát. Csak ránéztek vagy rákérdeztek valamire, hogy jé, ez mi, jé, de klassz, Guszti már emelte is le a polcról, be a kocsiba, hiába tiltakoztak, hogy á, nem kellene ám, nem azért mondták, csak ilyen otthon nincs… Jó hosszú ideig tartott, amíg szóban számba vették, mi minden ugrott be a csomagtartóban. Láttad, mennyi fizetett?, kérdezte a végén Miki. Na, mennyit?, érdeklődött Jóska, még kicsit fordult is a fia felé, hogy jobban hallja. Kétezer-nyolcszáz schillenget. Hoppá, füttyentett egyet Jóska, de aztán rögvest magyarázni kezdett. De tudod, mi ez neki? Semmi, mintha te kétszáznyolcvanért vennél neki valamit, vagy még annyi sem. Ezeket megfizetik, édesapám. Melós, de látod, hogy mindene megvan. Aztán kisvártatva megszólalt újra. Van ott kis csoki? Ja, Milka, felelte Miki. Na, adj egy kicsit. Meg kínáld meg az útitársunkat is.
Szopogattam a két kockányi Milkát, és arra gondoltam, hogy nem rossz, nem rossz, de ez semmi a svájci csokihoz képest, nekünk azt szoktak hozni az ismerősök, ha jönnek, Frigort és Caillers-t, mibe, hogy ezek itt még nem is hallottak róla, talán még a híres Guszti bácsi sem.
Aztán süvítettünk, az A2-esre kiérve, a Hycomat sebessége elérte a bűvös kilencvenes határt.
A grazi szálláson, a vacsora előtt Jóska hozzám botozott. Te, figyelj csak, mi nem megyünk ki holnap erre a versenyre. A francot sem érdekli úgy igazából. Állni egész nap, nem történik semmi. Lesz, aki kivisz, nem kell berezelni.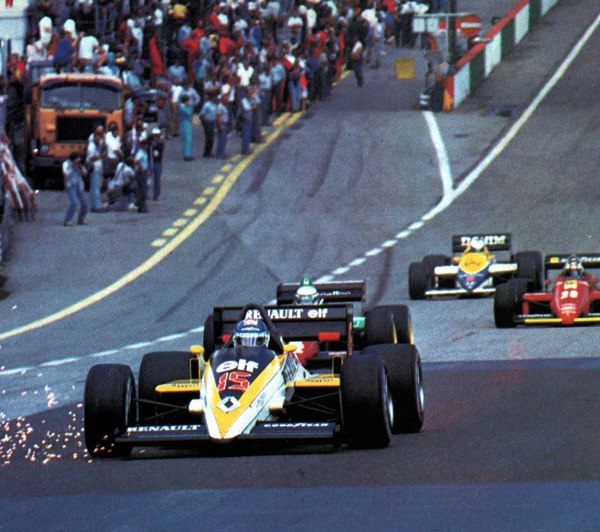 Egy magas, pajeszos fickó osztotta ki a jegyeket a vasárnapi futamra. A Bosch-kanyarba szólt, négyszáz schillinget ért. Jelentettem, hogy nincs, aki kivigyen másnap a pályára, tud-e segíteni esetleg. Azt mondta, üljek le enni, a kaja végére lesz fuvar. Egyedül voltam egy négyes asztalnál, beláttam az egész éttermet. A távoli, ablak melletti asztalnál ott volt Jóska és Miki is, egy idősebb párral együtt. Néztem a kavalkádot, és arra gondoltam, ezeknek itt egyáltalán nem fontos a verseny, az egészről épp csak hallattak valamit harangozni. Mit keresnek itt? Milkáért jöttek meg a walkmanért, menő cuccokért, már tart a nyári kiárusítás, kvarcórát vesznek majd hétfőn, Reebok cipőt, Wrangler farmert. Csak ezt a nyomorult vasárnapot kell valahogy kibírniuk, Forma-1-estül, Zeltwegestül, Ferraristul. Mondjuk, hencegni azért ezzel is lehet majd. Viháncoltak, ették a felszolgált bécsi szeletet petrezselymes krumplival, itták a frissen csapolt Puntigamert, és fogalmuk sem volt róla, hogy Niki Lauda bejelentette, hogy visszavonul.
Én is ittam egy korsó sört. Külön kellett fizetni érte.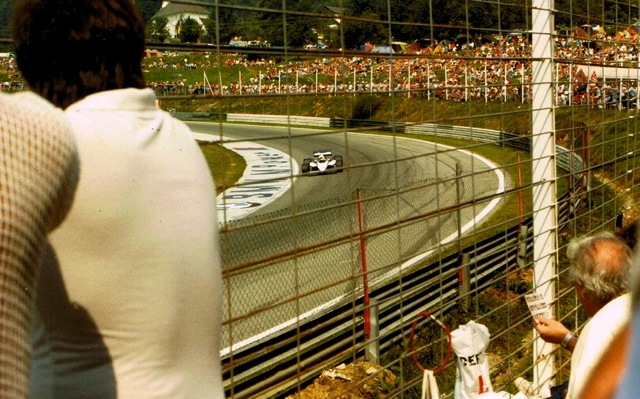 A csoportvezető vacsora után odavezetett egy borostás, csapzott hajú férfihez, akinek fogpiszkáló lógott a szája sarkából. Rugács, mondta bemutatkozásképp. A tenyere olyan volt, mint a smirgli, és szinte összeroppantotta a csontjaimat. Van hely a kocsiban, csak ketten vagyunk. A gyerek nagyon el akart jönni, hát mondtam, jöjjünk. A "gyerek" ott ácsorgott Rugács mellett, mackómelegítőben, és egy dobozos kálóból kiálló szívószálat szopogatott.
Reggeli után, kilenckor szálltam be Rugács mellé a kék Daciába. Átható benzin-, műanyag- és bagószag terjengett bent, új sofőröm rögvest rá is gyújtott egy szál Portira, és feltette túlméretezett napszemüvegét.
Csak amikor kikeveredtünk a városi közlekedésből, és már a Judenburg felé vezető úton gurultunk, kockáztattam meg a legfontosabb kérdést, Azt hallották, hogy a Lauda bejelentette, visszavonul? Rugács rám nézett, kicsit összevonta a szemöldökét. Az melyik is, Tibi, a Lauda? Jaj, hát amelyiknek leégett a füle, tudod, felelte a gyerek hátulról. Rugács a vállával tett egy mozdulatot, amivel jelezte, tessék, a kölök mindent tud. Szóval visszavonul?, kérdezte aztán. Igen, mondtam most már szűkszavúan. Erre Rugács felnevetett, Hát legalább nem ég le a másik füle!, kiáltotta, és jókedvében kétszer is a kormányra csapott.
A gyerek is szívből kacagni kezdett hátul.
Az útjelző táblán hitetlenkedve olvastam, hogy Zeltweg még harmincnyolc kilométerre van. Mintha sose akarnánk odaérni.